SIGN UP FOR APRIL - OCTOBER EMAIL/SMS UPDATES AT THE BOTTOM OF THIS PAGE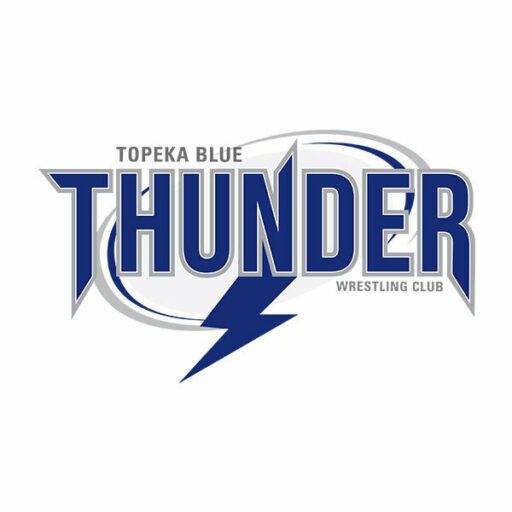 Welcome to Topeka Blue Thunder Wrestling Club
REGULAR SEASON REGISTRATION WILL NOT OPEN UNTIL CLOSER TO OCTOBER

WE ARE CURRENTLY IN PRESEASON UNTIL NOVEMBER 1ST

TO PARTICIPATE IN PRESEASON YOU EITHER NEED A USAW INSURANCE CARD OR FILL OUT THE WAVIER IN OUR DOCUMENT LIBRARY TO TRY BEFORE COMMITING TO USAW INSURANCE CARD.

SCROLLING DOWN AND OVER SHOULD GIVE YOU ALL OF THE RELEVANT INFORMATION YOU NEED 🙂
Practice Schedule
USAW Membership
The Topeka Blue Thunder Wrestling Club is chartered by USAW/USAWKS.

All wrestlers and coaches are required to have active USAW memberships to step on the mat. * Short term liability waiver is available in our document library for those trying out*

Click link below to purchase a USAW insurance card for your wrestler or for you as a coach.
Purchase or Renew USAW Insurance for 23-24 Season
Regular Season Starts November 1st 2023
REGULAR SEASON REGISTRATION WILL NOT OPEN UNTIL CLOSER TO OCTOBER - SCROLL DOWN FOR GENERAL INFORMATION OR VISIT OUR FAQ'S PAGE
FAQ's
Our Mission
TBTWC is committed to the teaching and mentoring of our wrestlers mind, body, and spirit in order to achieve excellence in the sport of wrestling. Being in an environment that fosters these principles will allow our youth to develop the self- discipline, integrity, confidence, character, courage, dedication, and strong work ethic needed for future success, both on and off the mat. The structure of our program is to promote individual excellence from an unwavering commitment to being the best we can possibly be. Love, trust, respect, directness, honor and sportsmanship are the values of TBTWC
"We're building this thing the right way and building it to last."
Practices Start: Practice Schedule
Fall Session(Preseason) – September – October
Winter Session(Regular Season) – November – March
Spring Session(Freestyle/Greco) – April – May
Summer Session – June-July
Off Season – AUGUST
Practice Locations:
(November-February)Washburn Rural Middle School Wrestling Room – 5620 SW 61st Street, Topeka, KS 66619
(March-October)Washburn Rural High School Wrestling Room – 5900 SW 61st Street, Topeka, KS 66619
Fees:
2023 Spring Session(Freestyle/Greco) Fees: NO FEES OUTSIDE OF USAW CARD
2023 Summer Session Fees: NO FEES OUTSIDE OF USAW CARD
2023 Fall Session(Preseason) Fees: NO FEES OUTSIDE OF USAW CARD
2022-2023 Winter Session(Regular Season) Fees: 
*Siblings must live in the same household
New Parent Meeting & Open House
HIGH SCHOOL MAP AND ENTRANCE
Middle School Map And Entrance